Fabulous Sides to Serve with Jerk Chicken – These side dishes are sure to enrich our savory and spicy jerk chicken with their diverse flavors and spices. They provide a wide selection of quick, easy, and budget-friendly recipes yet provide restaurant-quality meals, from rice dishes to dips and sauces, that can surely make your Jamaican dining experience extra fun-tastic and exciting. 😉
Our favourite Jamaican go-to comfort food, Jerk Chicken, is thought for its explosion of great flavors from Scotch bonnet pepper, herbs, and spices. And, in fact, it deserves nothing but genuinely delicious side dishes, equivalent to Caribbean rice and beans and yuca fries, to level up our classic chicken BBQ meal. 😉
These sides that absolutely love being with jerk chicken are guaranteed to satisfy all of your comfort food cravings any time of the day, minus the hefty price tag. They're really easy to make that even a first-timer can easily pull them off like a professional. Oh yeah! 😉
FAQs
What does jerk chicken taste like?
I might describe its taste as a stupendous combination of smoky, spicy, sweet, and savory flavors. And it's filled with fabuliciousness from jerk seasoning or jerk marinade, which is commonly made with sugar, soy sauce, paprika, thyme, and hot peppers, equivalent to Scotch bonnet and habanero peppers. 
What's traditionally served with jerk chicken?
Jamaicans traditionally serve their jerk chicken with plantains or rice since each are locally grown and are abundant on the island. They pair perfectly with our jerk chicken because they balance the warmth with their natural sweetness.
What makes it jerk chicken?
It wouldn't be called jerk chicken without its most important ingredients – Scotch bonnet peppers and allspice. You may as well find these spices in jerk seasoning and jerk sauce, often used as marinades for jerk recipes. And its traditional cooking technique is grilling over burning coals so as to add smoky flavor and create perfectly charred skin. Although, you can even enjoy them baked.
Rice Side Dishes
1. Caribbean Rice and Beans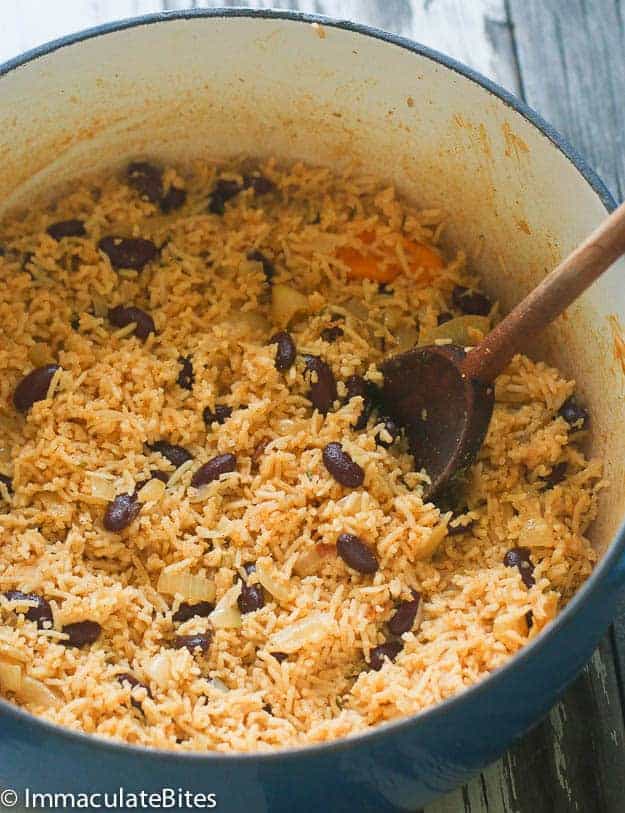 If I were to decide on the proper side dish for our classic jerk chicken, I'd surely pick Caribbean rice and beans in a heartbeat. I like how the coconut milk melds beautifully with our spicy chicken and the exquisite flavors of Creole seasoning and chicken broth.
Caribbean Rice and Beans
An explosion of flavors Caribbean Rice and Red Beans seasoned with garlic, onions, and Creole spice infused with bay leaves, thyme, scotch bonnet, and coconut milk. It's a rice meal like no other!
Try this recipe
2. Jamaican Rice and Peas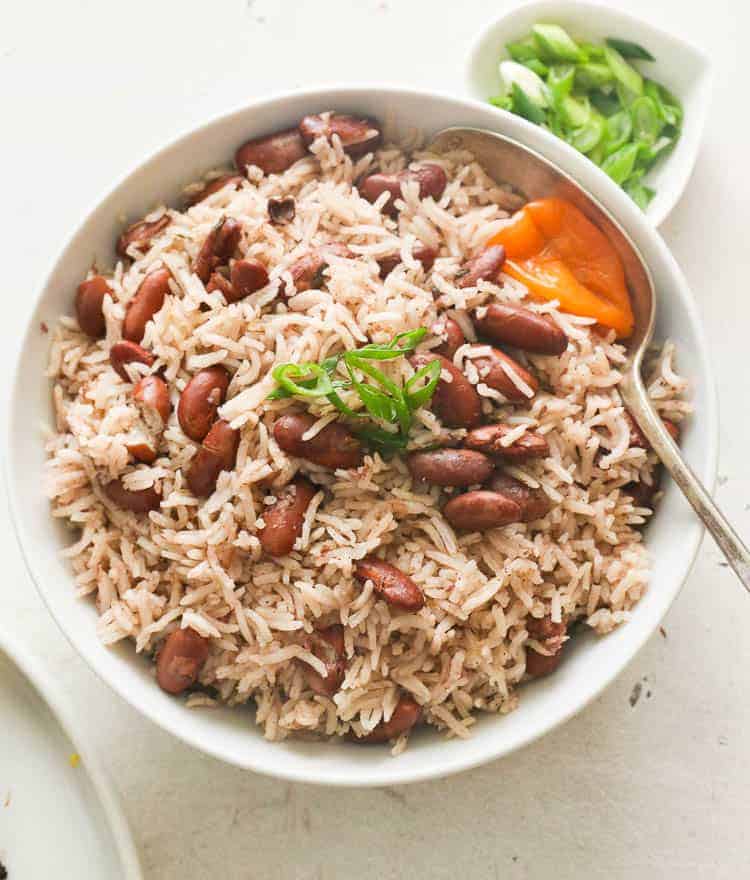 And here's one other traditional Jamaican dish often paired with many jerk recipes. This one has similar ingredients to the previous recipe, only lighter on the umami flavors. Nevertheless it's actually heavy on savory flavors from green and yellow onions, garlic, thyme, and allspice. 👌
Jamaican Rice and Peas
Jamaican Rice and Peas – A unprecedented rice dish filled with protein and fibers, with exploding savory flavors from scotch bonnet peppers, allspice, and thyme. Serve it with Curry Goat or Jerk Chicken and also you'll have a beautiful Carribean Feast on the comfort of your private home.
Try this recipe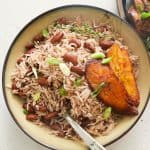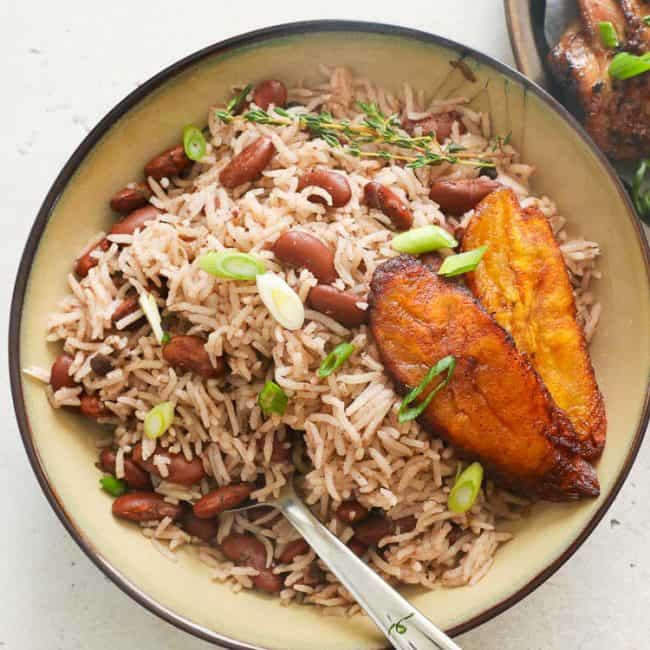 3. Coconut Rice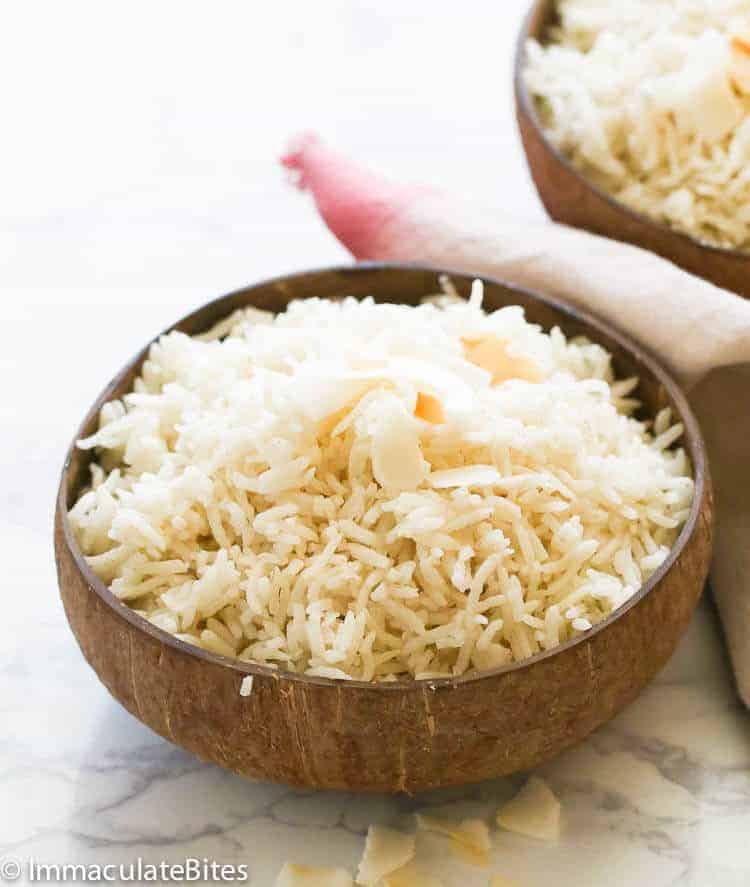 Oh, you're going to like this rice recipe not just for its simplicity but additionally for its deliciousness. And the very best part? You simply need 4 ingredients to make this tasty dish – rice, coconut milk, water, and salt. You possibly can take a shortcut by simply dumping every little thing in a rice cooker, and boom! Your magical coconut rice awaits! 😉
Coconut Rice
Coconut Rice – A straightforward yet flavorful rice with milk from grated coconut. So fragrant, coconutty, and engaging rice. It makes an ideal pair for any dish! Coconut is a large a part of African and Caribbean Cooking, and many of the recipes are made with fresh coconuts.
Try this recipe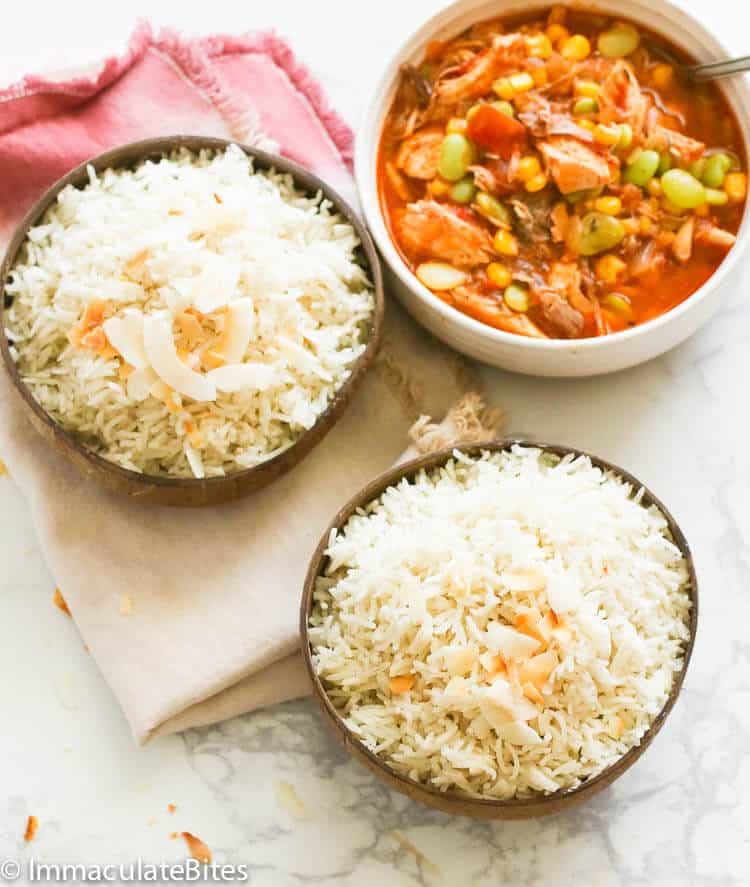 4. Cajun Rice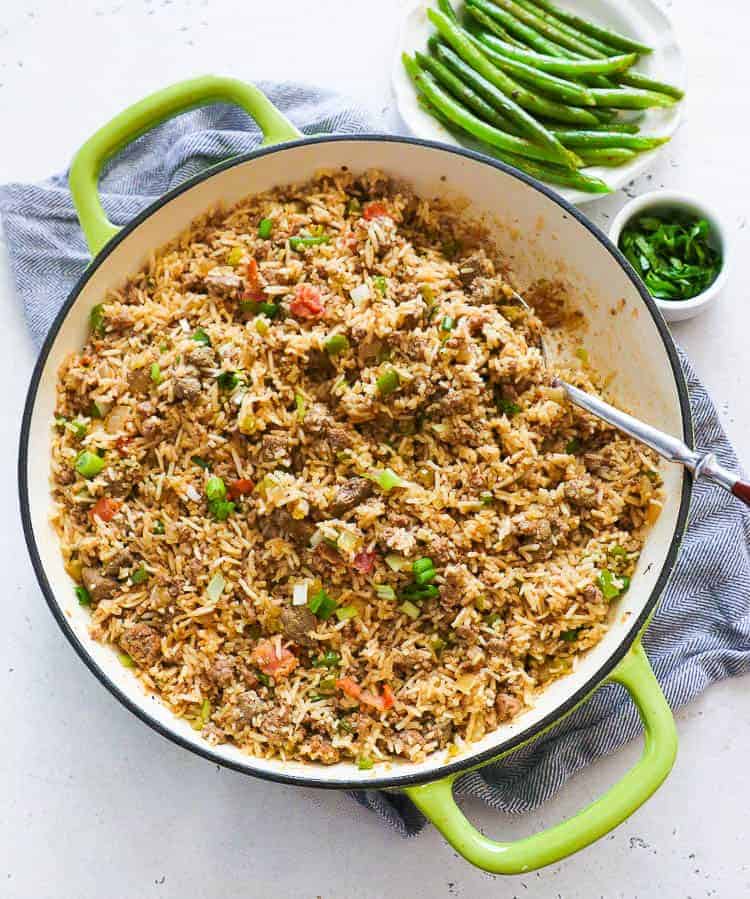 Make way for the tastiest and meatiest rice dish that will certainly take your Jamaican meal to an entire recent level of African-influenced cuisine. It can surely tickle your tastebuds with its daring flavors from bacon, liver, and ground beef. And it's much more delightful with the assorted herbs and spices. Oh yes!
Effortless One-Pan Cajun Rice
Cajun rice – A one-pan meal stuffed with Cajun flavors that comes together in a mixture of fragrant rice and perfectly browned meat. This recipe may look easy at first glance but, trust me, there's more to it than meets the attention. It's a brilliant easy recipe you'll be able to make without the necessity for any exotic spices or flashy cooking methods. 
Try this recipe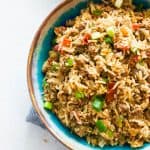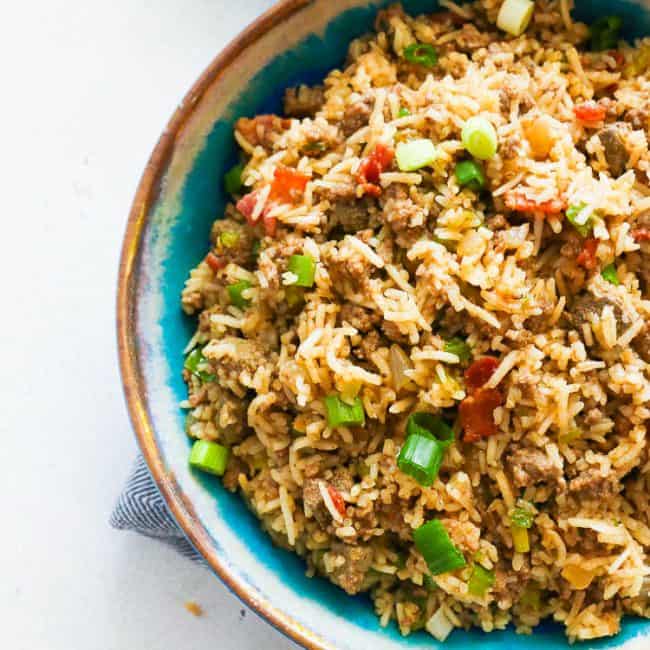 5. Black Beans and Rice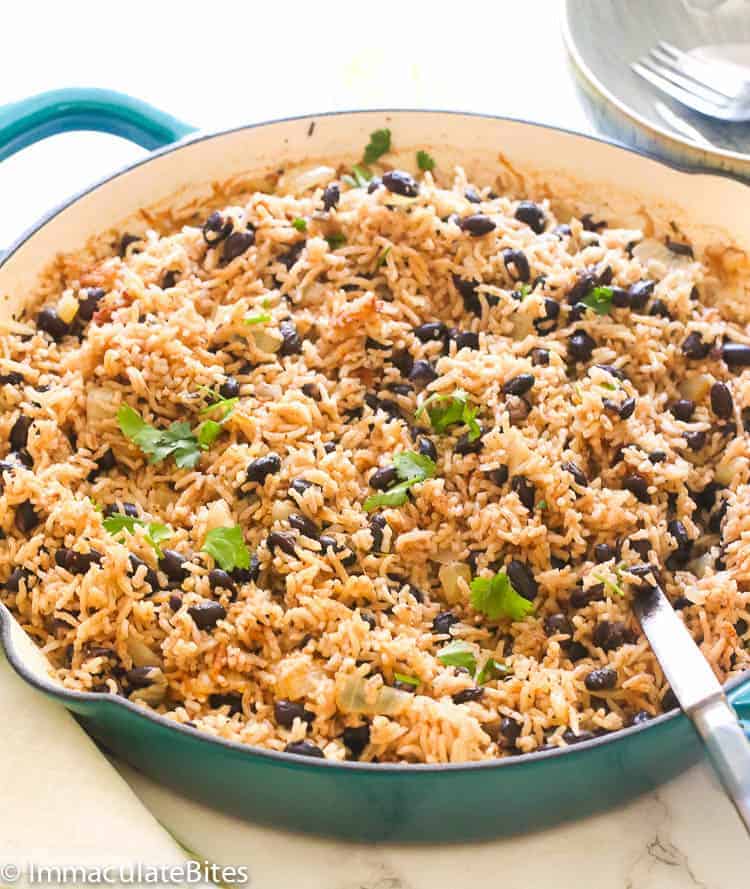 How a couple of fusion of Puerto Rican, Mexican, and Cuban flavors? It's all within the seasoning, baby! And it's effortlessly done with Creole seasoning, taco seasoning, and cumin. Easy, quick, and straightforward! It'll only take 35 minutes to make, and also you'll have a tremendous jerk chicken side dish able to devour. 😉
Black Beans and Rice
Black Beans and Rice – the most effective side dishes ever that is easy to arrange yet very versatile. Will be thrown together as a side to your favorite meat or a hearty meal by itself. 
Try this recipe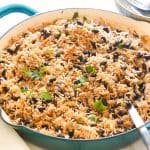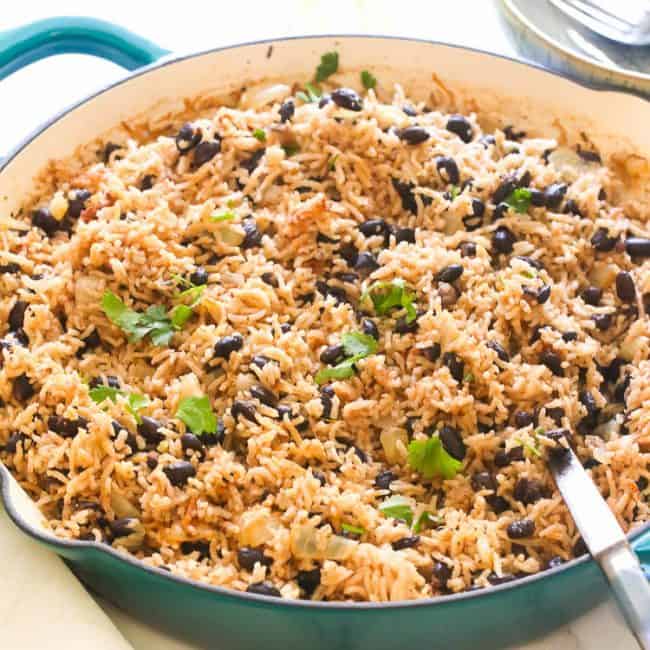 Salads, Dips, and Sauces
6. Grilled Pineapple Black Bean Salsa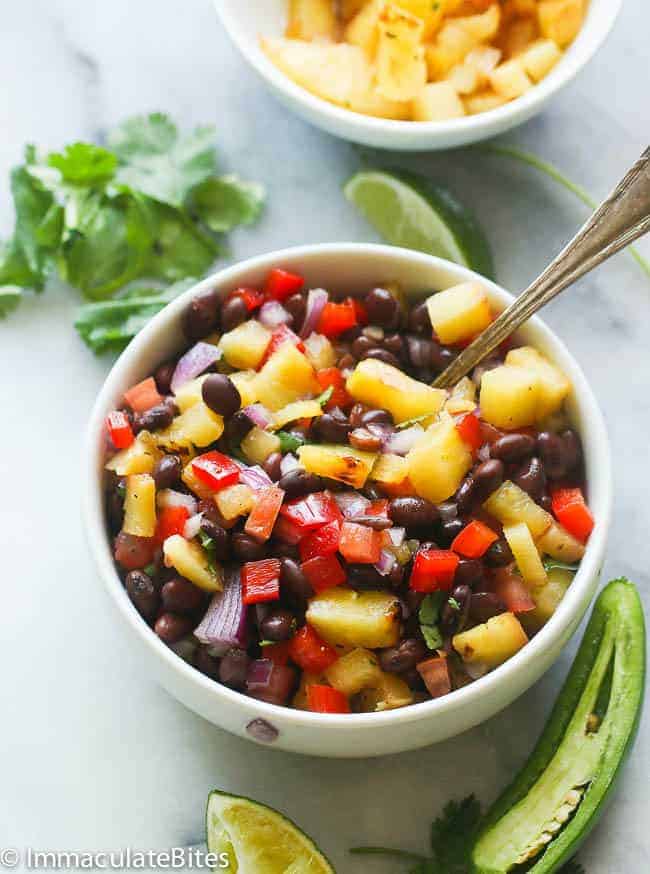 Entice your tastebuds on this vibrant black bean salsa loaded with a nourishing burst of flavor from tomatoes, beans, bell pepper, and roasted pineapple. It's undoubtedly the most effective side dishes to serve with jerk chicken due to its refreshing citrusy flavors. It also makes an awesome accompaniment to your tacos and tortilla chips. 😋
Grill Pineapple Black Bean Salsa
Grill Pineapple Black Bean Salsa- Healthy, flavorful and straightforward salsa bursting with grilled pineapple, black beans, bell pepper and jalapeño peppers. Tastes even higher the following day with an intense, daring flavor.
Try this recipe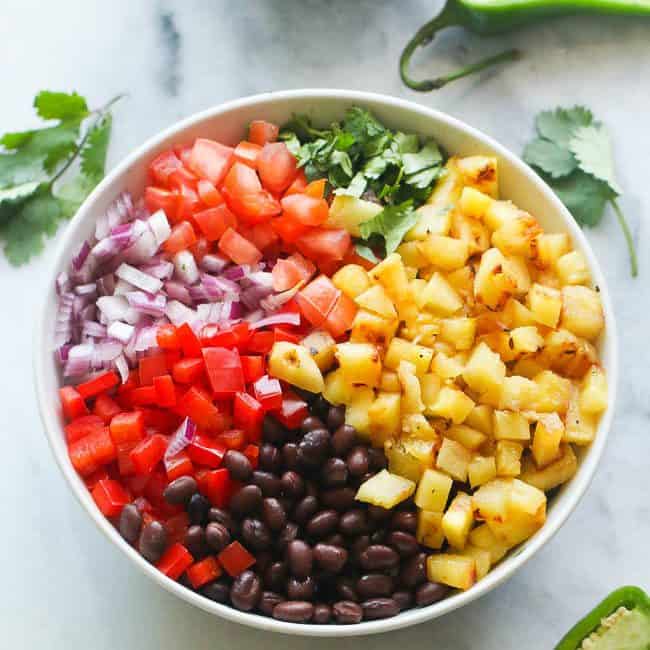 7. Mango Salsa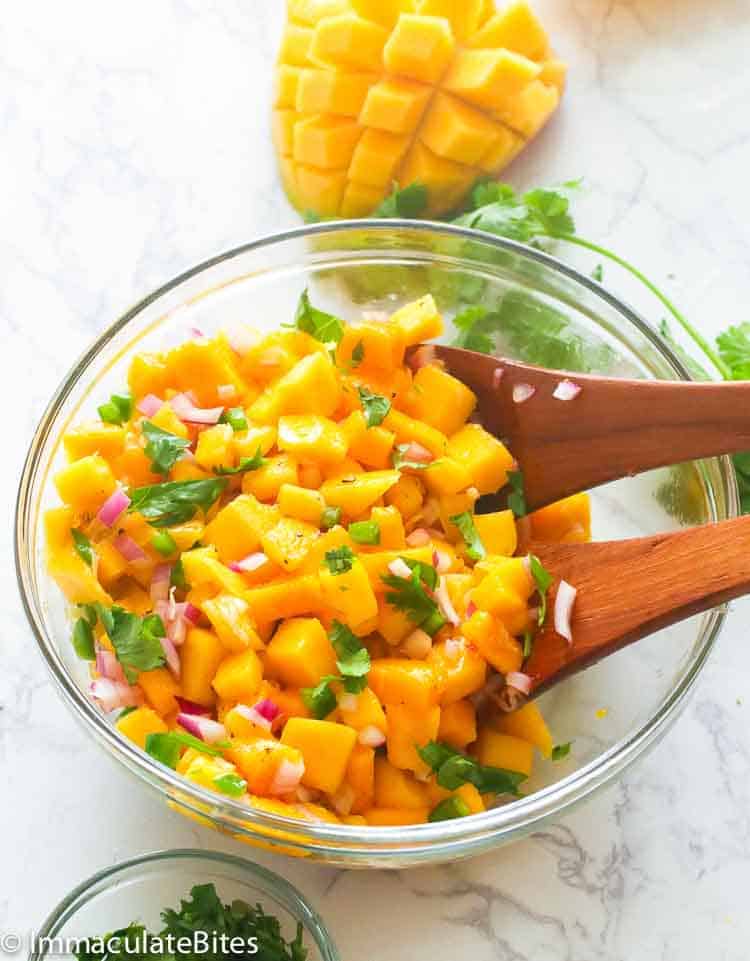 Treat your mouth and belly to a sweet and spicy tropical food fiesta with the proper jerk chicken side, mango salsa. Its uniquely contrasting fruity and zesty flavors offer a refreshing vibe with every bite. This combo is screaming happiness on a plate. Indeed, the most effective side dishes to bring to your next weekend potluck. 👌
Mango Salsa
Mango Salsa – vibrant, fresh and straightforward salsa made only with 5-ingredients. It has the proper balance of sweetness and spiciness that goes well with favorite chips, grilled fish or pork or at the same time as a snack by itself. The one salsa you would like for summer!
Try this recipe

8. Caribbean Pepper Sauce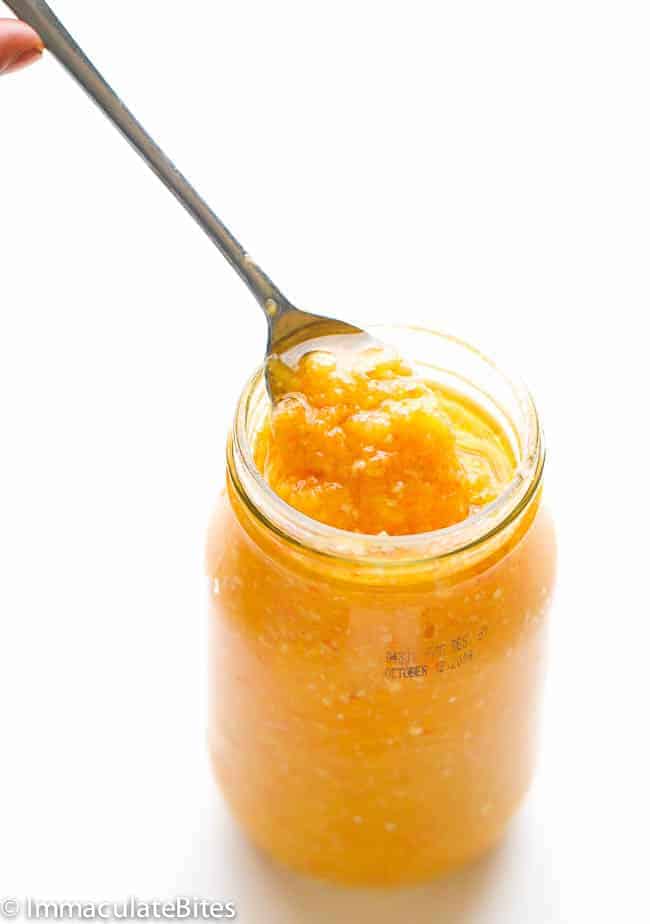 Turn up the warmth and prepare for a flame-throwing party with this Caribbean pepper sauce. It's greater than just spicy since it's also oozing with fruity sweetness from pineapple or mango. No wonder it pairs perfectly with any of those grilled chicken recipes. So yummy!
Caribbean Pepper Sauce
Homemade Caribbean Pepper Sauce- Probably the most amazing combination of sweet and spicy flavors that can leave you wanting more.
Try this recipe
9. Caribbean Coleslaw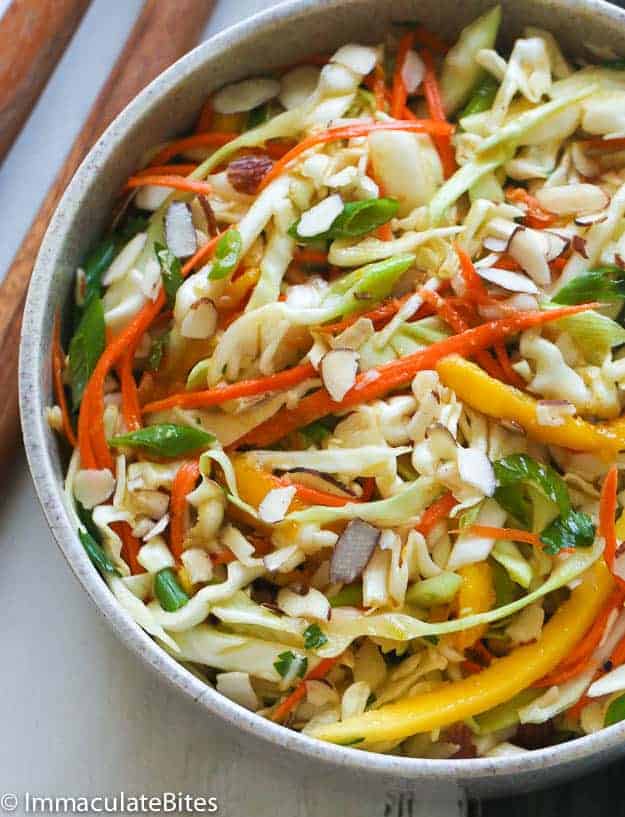 Our humble Caribbean salad is ready similarly to our classic favorite chicken side dish, coleslaw. Only this one has a mayo-free dressing with an added spicy twist and a fruity surprise. It's much more delectable together with your favorite nuts and seeds. Pretty impressive, huh? 🤩
Caribbean Coleslaw
Caribbean Cole Slaw-A Mayo-Free Coleslaw – Light, Fruity , Sweet and Refreshingly Good! Makes the proper no-cook side dish. Add your favorite protein and make it a meal!
Try this recipe
10. Caribbean Potato Salad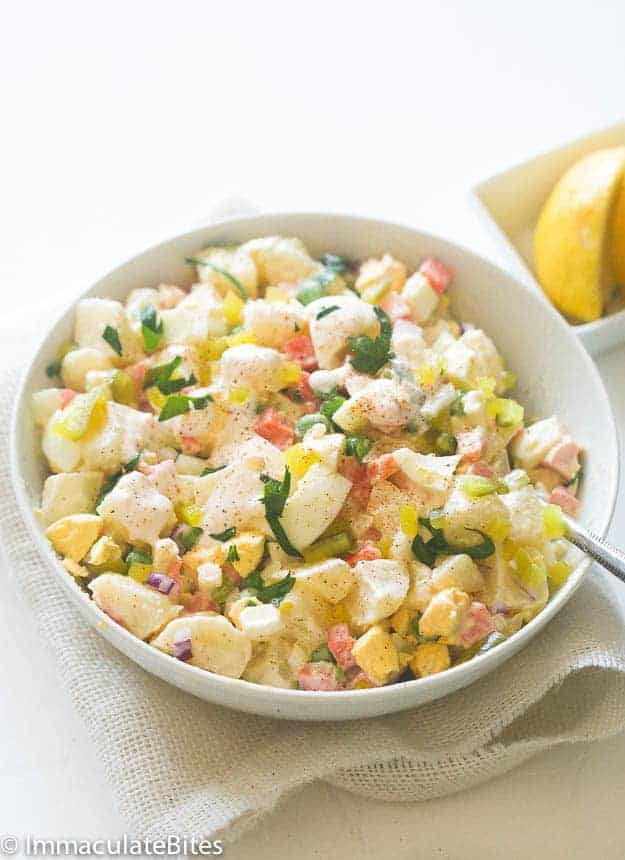 And, in fact, this Caribbean potato salad also deserves its place on the very best sides to serve with jerk chicken. You'll love this recipe since it's straightforward, but it surely's also easy to customize to your palate. Spike up the flavour with a sprinkle of paprika and Cajun spice, and also you're good to go. 😉
Caribbean Potato Salad
Caribbean Potato Salad – This incredible potato salad is creamy, luscious, tasty, and chock stuffed with vegetables.
Try this recipe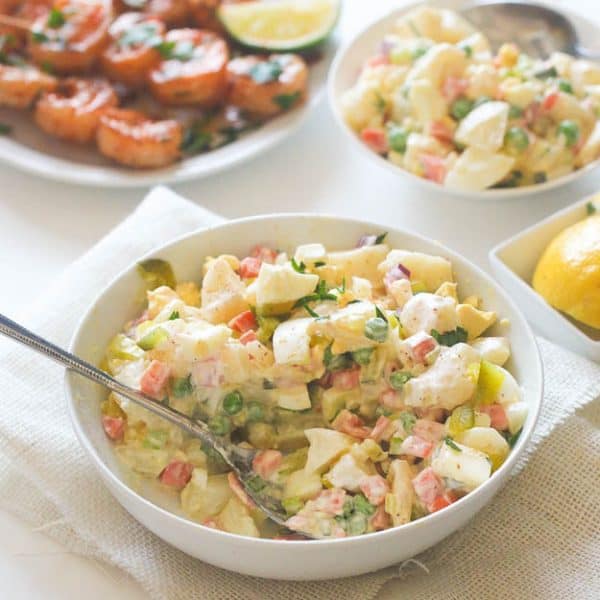 Vegetable Side Dishes for Jerk Chicken
11. Collard Greens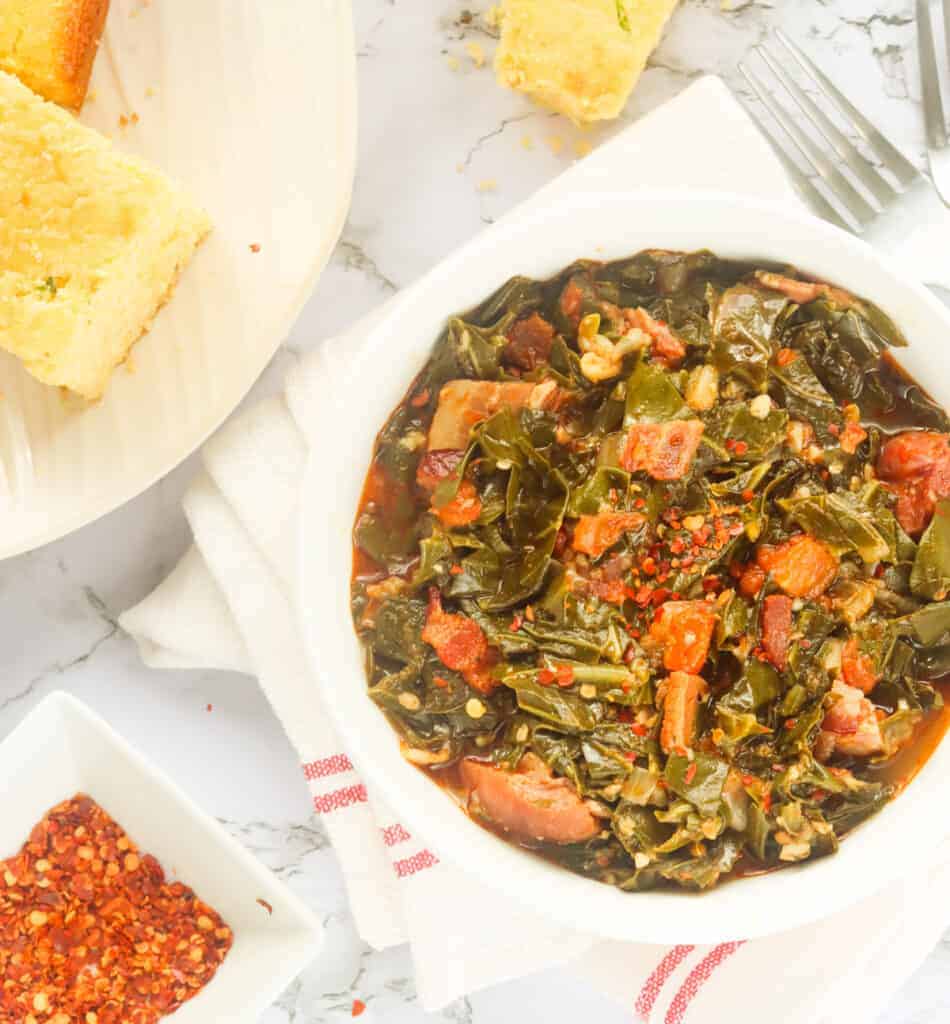 Bask in this healthy comfort food for a guilt-free soul-satisfying delight. The added meaty goodness from ham hocks and bacon actually highlights the general flavor of those yummy collard greens. It's so delicious even your picky-eater kid won't complain. Except for jerk chicken, I also like to eat it with cornbread and cassava fufu. Yum!
Collard Greens
Collard Greens – This authentic Southern dish is slowly simmered in a savory and spicy broth loaded with ham hocks and delectable seasonings. It's a flavor-packed take in your favorite leafy greens. Even higher, it pairs well with cornbread for that perfect soul-food meal!
Try this recipe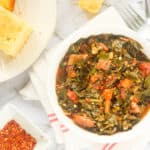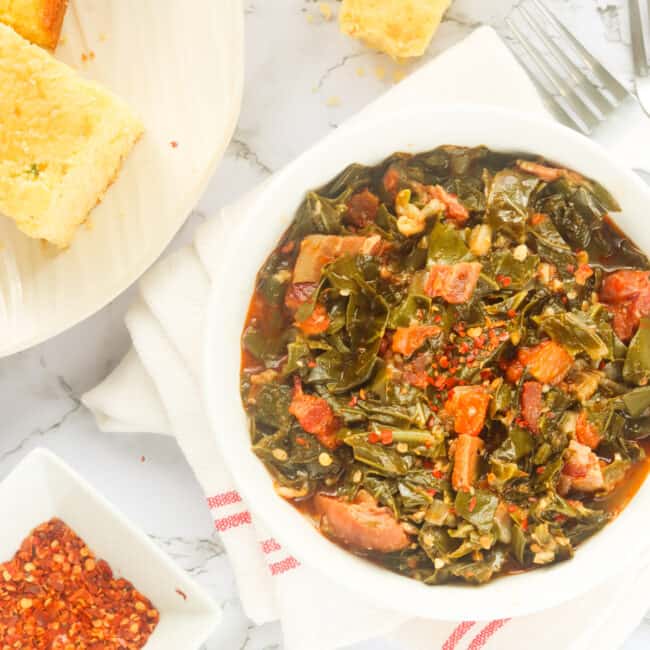 12. Fried Cabbage
Our next veggie side dish recipe here is certainly certainly one of my favorites. Not only is it super delicious, but it surely's also gluten-free and keto-friendly, which makes it a sure-winner dish. Whether you're doing a weight loss plan or not, you'll find it irresistible much more for its daring flavors from leftover ham or bacon. 👌
Southern Fried Cabbage (Plus Video)
Fried cabbage is definitely a mix of sautéing or stewing, being cooked low and simmered in its own juices slightly than fried quickly.
Try this recipe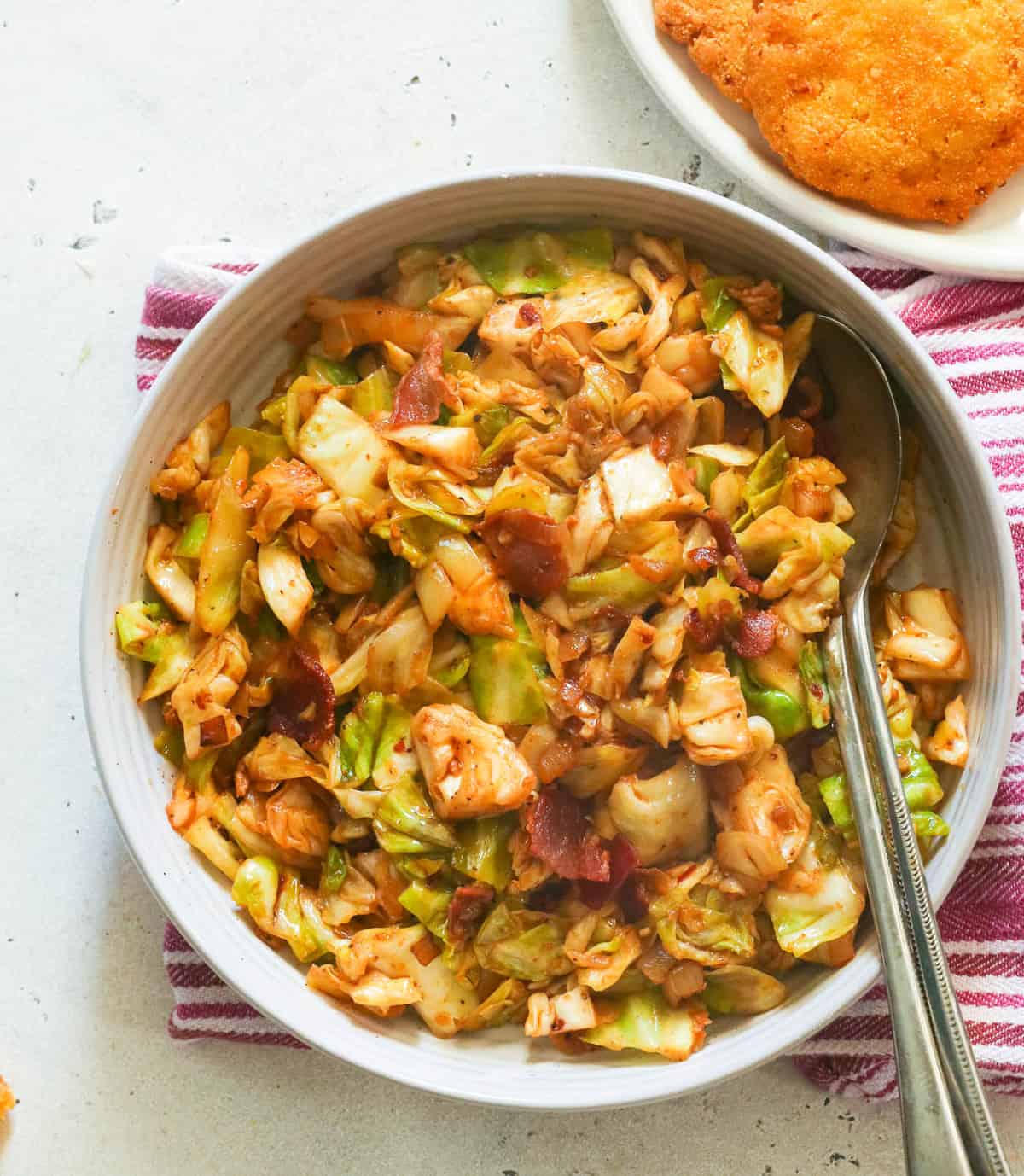 13. Oven-Roasted Corn on the Cob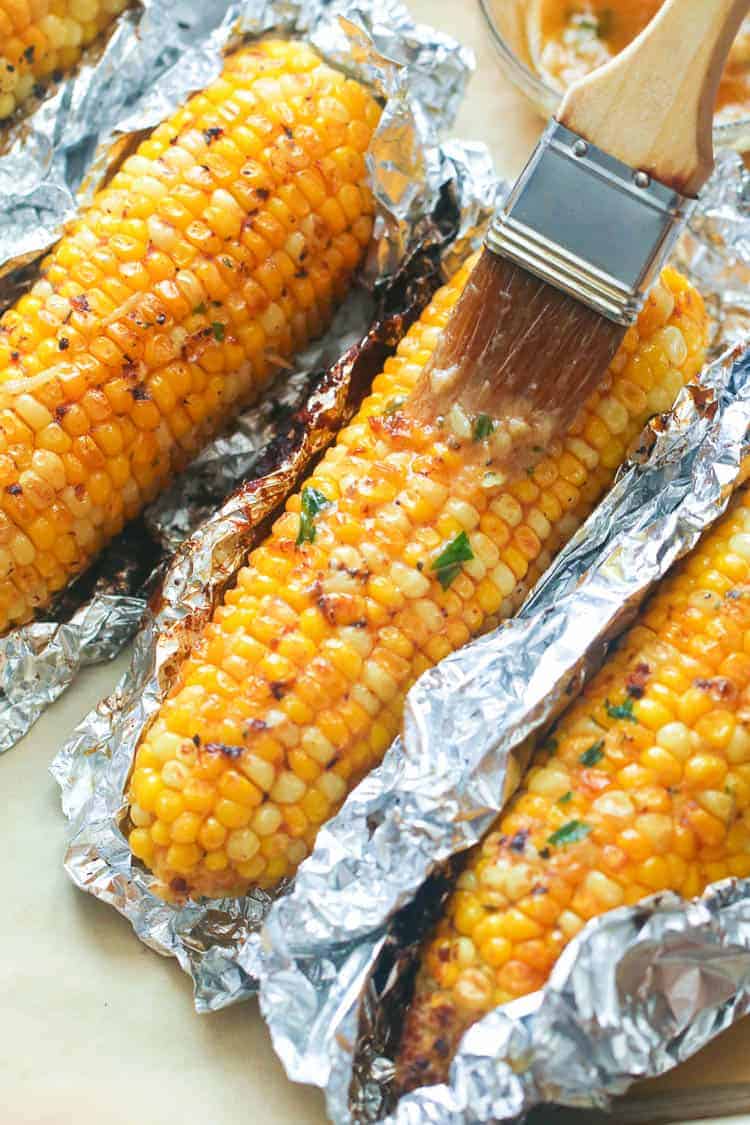 What could possibly be higher than corn brushed with garlic butter and Creole seasoning? Aah! I can eat it time and again without complaints, even without the garlic butter. It's already perfect by itself. No oven? No problem! You possibly can boil them as an alternative, and they're going to prove as amazing. Here's the best way to boil corn. 😉
Oven-Roasted Corn on the Cob
Enjoy fresh summer corn the simple way with almost no prep time. It comes out moist, beautifully caramelized, and oozing with flavor from my homemade garlic butter and Creole seasoning. At all times spot on delicious!
Try this recipe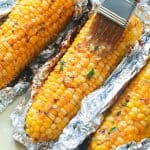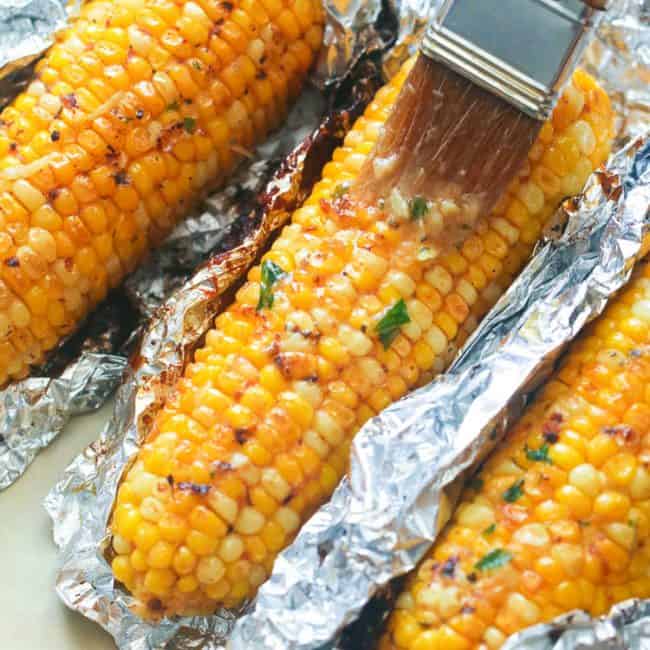 14. Roast Garlic Mashed Red Potatoes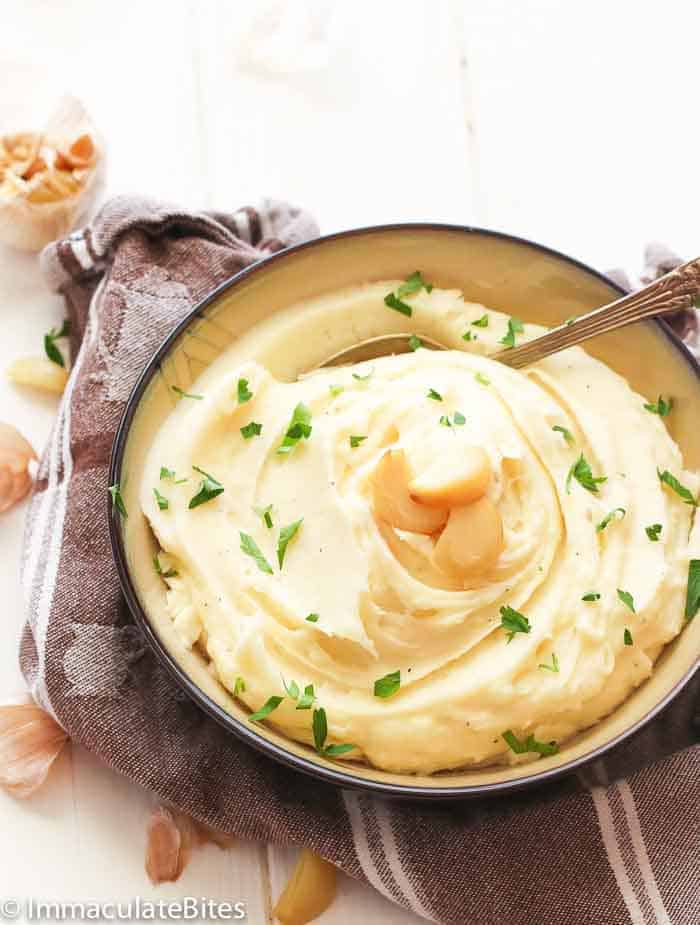 Let's take our regular mashed potato up a notch with an added sensational roasted garlic flavor. Oh, consider me, you'll never return when you taste our lovely garlicky surprise. And whilst you're at it, try adding some crispy bacon bits on top for a more savory wow factor. 😉
Roast Garlic Mashed Potatoes
Roast Garlic Mashed Potatoes – Creamy, fluffy and Flavor-packed,  super easy to make and stuffed with savory, delicious roasted garlic flavor! An ideal side dish for any protein meal and a will need to have side dish for the vacations.
Try this recipe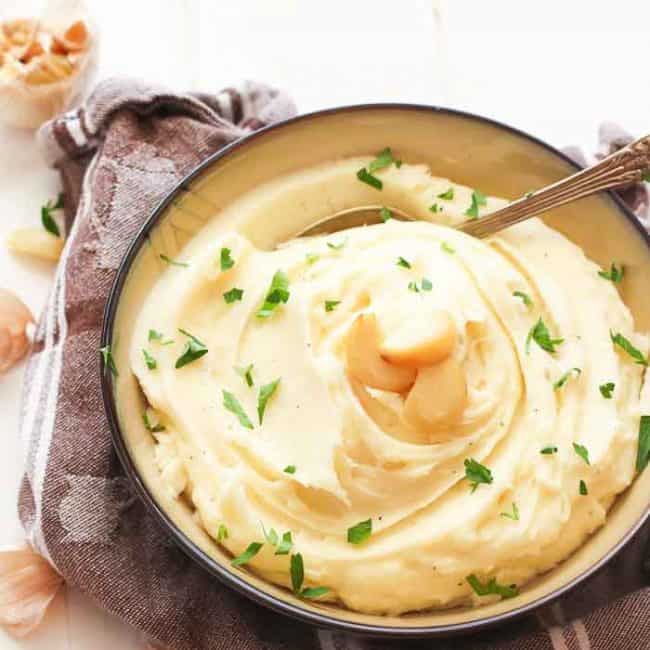 15. Mashed Sweet Potatoes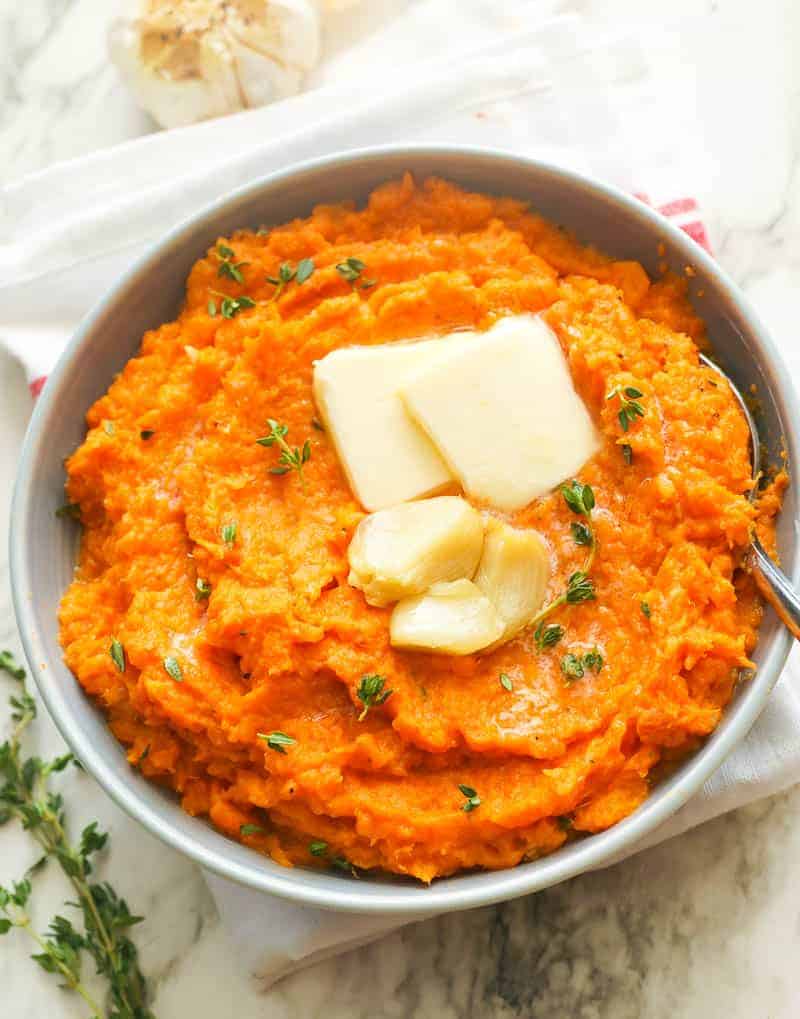 When you love mashed potatoes, you'll surely love these mashed sweet potatoes here, too. Whether you want them sweet or savory, each versions offer a yummy comforting side dish perfect for the vacations. You may as well enjoy this side as a heavenly dessert served with a drizzle of condensed milk on top. 😋
Mashed Sweet Potatoes
This tasty mashed sweet potato recipe is greater than a recipe; it's two recipes! Let me show you the best way to make each sweet and savory mashed sweet potatoes. These are incredible, seasonal side dishes that can surely steal the show. And, they're perfect for the vacations.
Try this recipe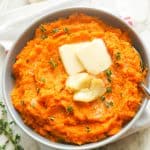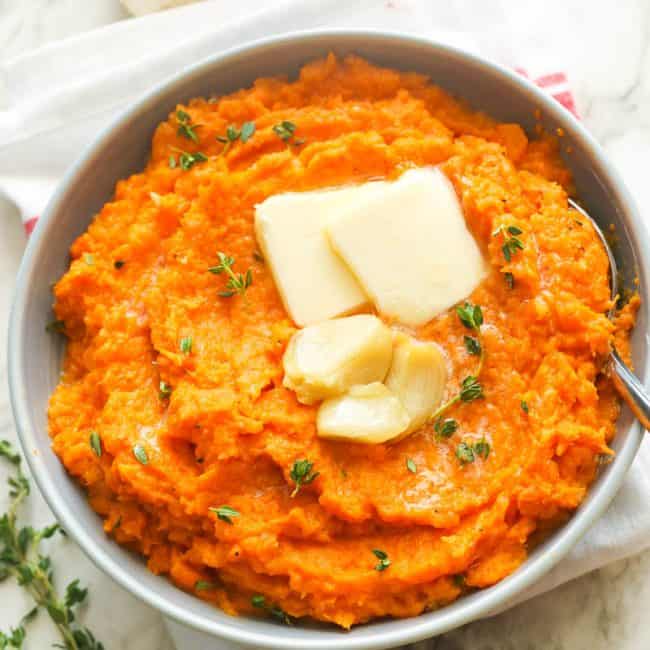 Bread Side Dishes
16. Coco Bread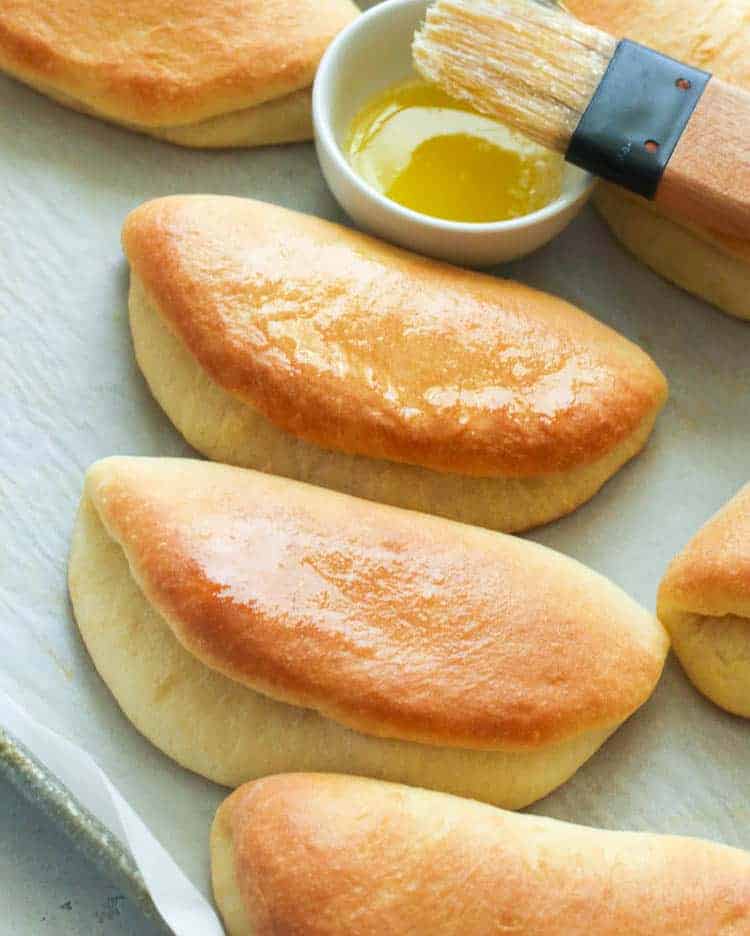 This coco bread are seriously addicting with its lovely sweet coconut and buttery goodness ensemble. And consider it or not, only eight ingredients make this incredibly firm bread with a soft fluffy center. These yummy baked treats make a decadent breakfast, snack, or dessert, perfect on a weekly rotation.
Coco Bread
Coco Bread – a preferred staple bread in Jamaica and other parts of the Caribbean made primarily with flour and coconut milk, then barely sweetened simply to tickle your tastebuds. Buttery, barely sweet with a spot on firmness on the surface and softness on the within. Great for breakfast, lunch, snacking or at the same time as dinner!
Try this recipe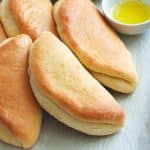 17. Buss Up Shut Paratha Roti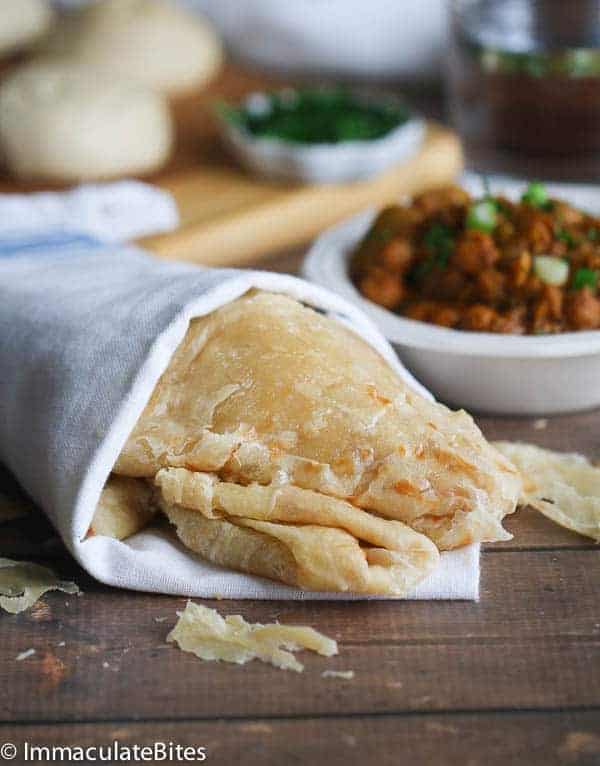 What a novel name for bread, huh? And its buttery, chewy goodness will certainly impress you. Even though it could appear complicated to make, it's actually pretty easy when you get the hang of it. Just the proper side to our jerk chicken and other curry dishes, like curry chicken and Jamaican curry shrimp. ❤
Buss Up Shut Paratha Roti Recipe
Buss Up Shut Paratha Roti – a Trinidad version that's Super Soft, Messy and Tasty. Pair it with Channa Curry and Aloo or Trinidad Chicken Roti.
Try this recipe

18. Hawaiian Sweet Rolls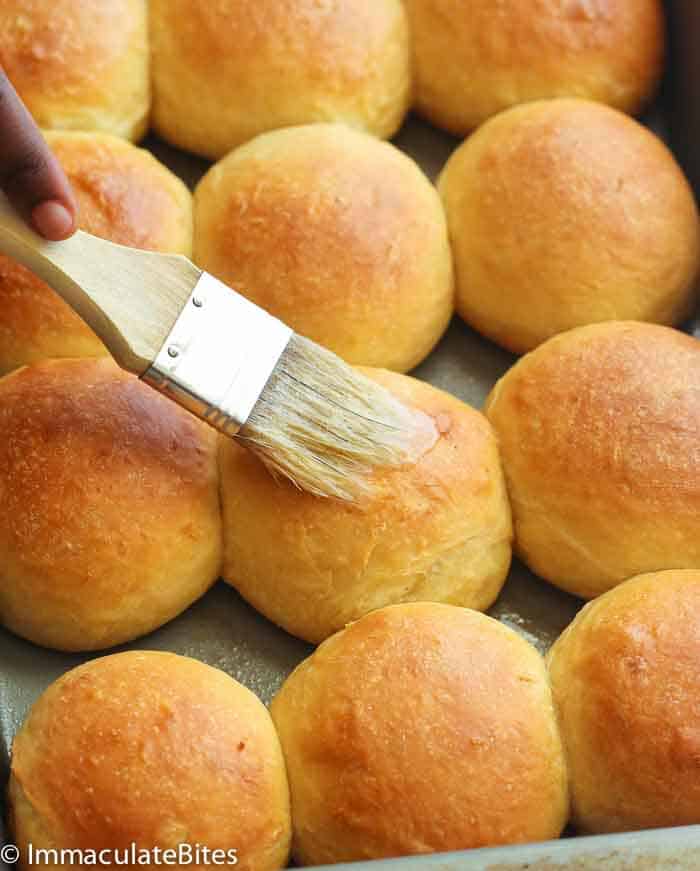 Feel summer vibes all yr long with our sweet, soft, and fluffy Hawaiian rolls. They're made with none aside from pineapple. It has the proper sweetness and buttery goodness that may't be beat. Aah! They're so good they may even pass as dessert. Yay! 😋
Hawaiian Sweet Rolls
Hawaiian Sweet Rolls – Fresh and warm Hawaiian rolls; buns which have a kick of sweetness from the pineapple juice, brushed with butter and baked to perfection. You're never going to purchase store bought version again.
Try this recipe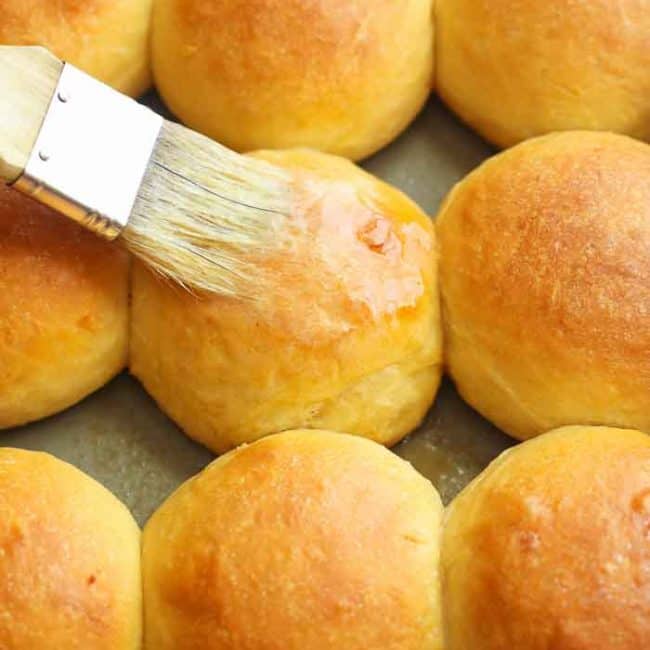 Fried Snacks and Sides
19. Yuca Fries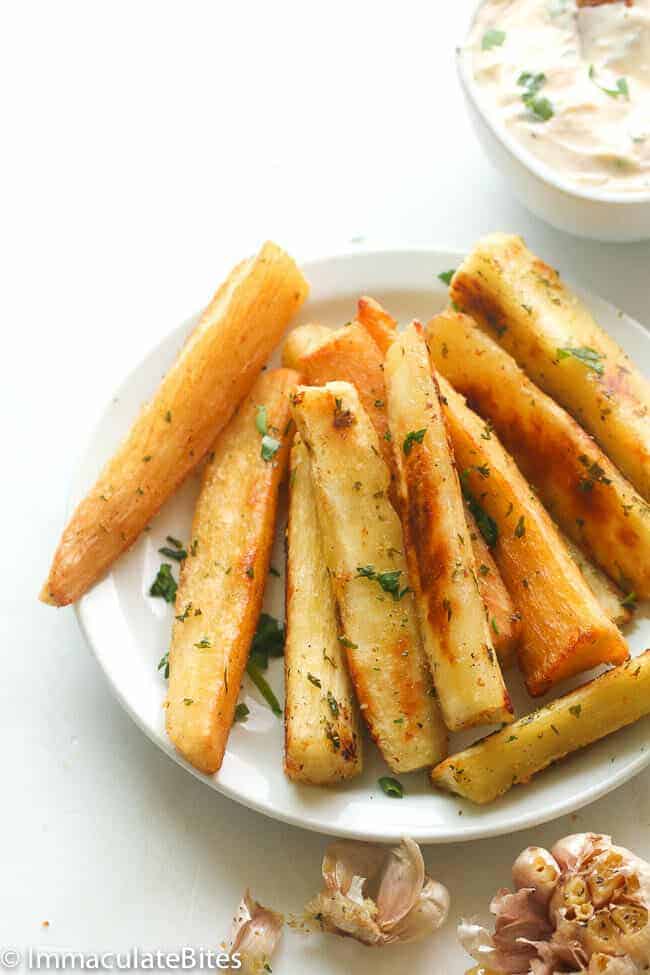 You see, our yuca fries listed below are extraordinarily crispy and delicious. And it comes with a roast garlic aioli for the proper snacking experience aside from just being a side dish to jerk chicken. Yuca is wealthy in calories and carbs, making this dish the perfect snack and side for the entire family. 👌
Yucca Fries & Roast Garlic Aioli
Yucca Fries-Light and crisp, fresh Yucca fries (Baked or fried) with an Fragrant Roast Garlic Dipping Sauce. Savory, sweet and so healthy and delicious.
Try this recipe

20. Cajun Baked Sweet Potato Fries
We at all times enjoy our sweet potatoes as a comforting casserole like my sweet potato casserole with marshmallows. But additionally they make an excellent snack and a beautiful side dish to jerk chicken. To accentuate the flavour, you'll be able to enjoy them plain or highly seasoned with Creole seasoning. Oh yes!
Cajun Baked Sweet Potato Fries
Cajun Baked Sweet Potato Fries are a straightforward and savory side dish perfect on your next snack or weeknight meal. Sweet potatoes drizzled in butter and olive oil, sprinkled with Cajun seasoning, then oven-roasted for a crispy outside are addictive.
Try this recipe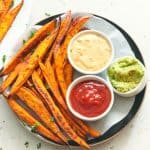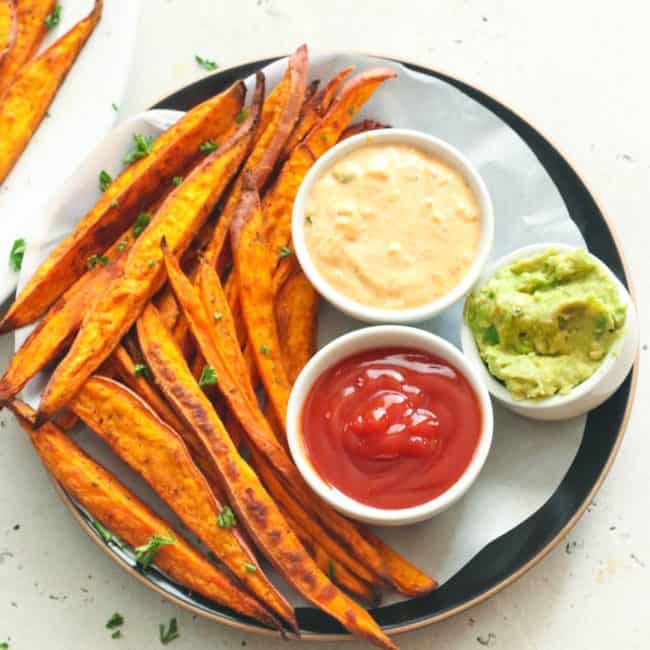 21. Fried Plantains
When you haven't tried plantains yet, you're seriously missing out. And these fried plantains will mark the start of your plantain addiction. Don't worry, though, because they're incredibly healthy and source of vitamin C, potassium, calcium, fiber, and antioxidants essential to our body. ❤
Fried Plantains
Fried Plantains – sweet ripe plantains, sliced and fried to perfection. It's somewhat crisp on the surface and soft on the within. Sooo good which you can eat it as a side dish to rice & beans, stews or by itself! Amazingly delicious!

Try this recipe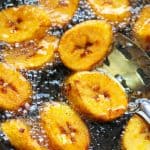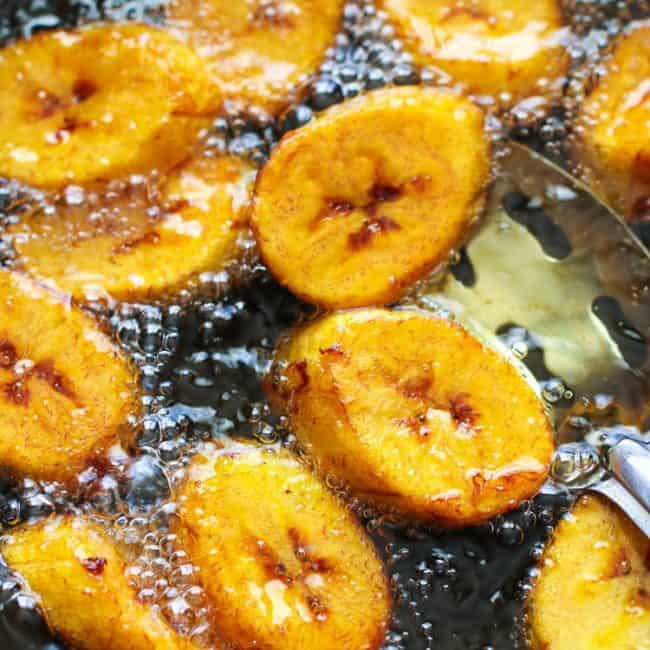 22. Jamaican Festival (Caribbean Dumpling)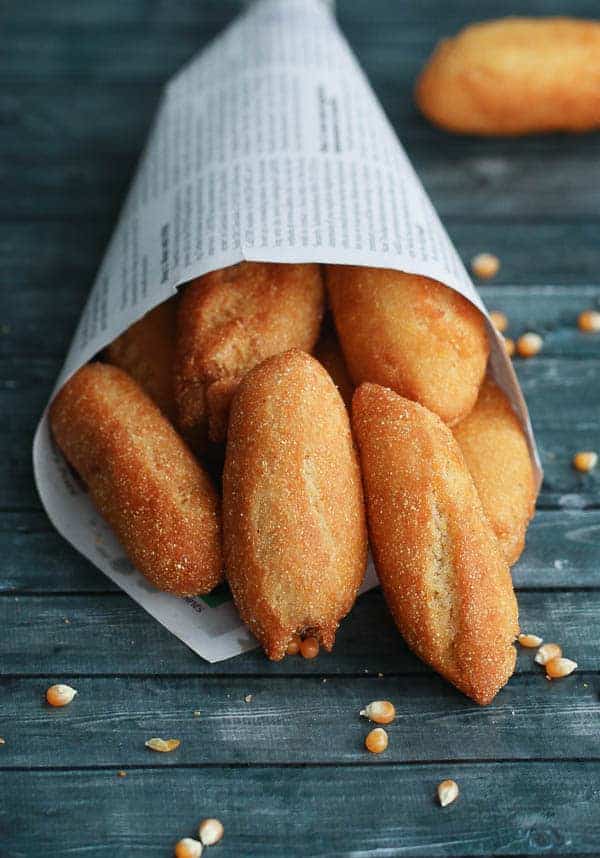 Oh, say hello to a different Jamaican food jewel, Caribbean dumplings, to grace our mouth and belly with its deliciousness. It's primarily made with flour, cornmeal, and butter, then fried to perfection until nice and crispy but with a soft pillowy center. Really easy to make yet make a flowery side dish, especially whenever you serve it with mango coleslaw. ❤
Jamaican Fried Dumplings
Golden and crispy on the surface, perfectly soft and fluffy on the within! These dumplings are incredibly addictive and almost unimaginable to place down! They're quick to throw along with just a number of pantry staples and may be enjoyed either savory or sweet.
Makes 12-14 dumplings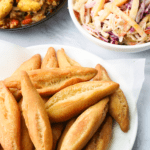 Refreshing Beverages
23. Rum Punch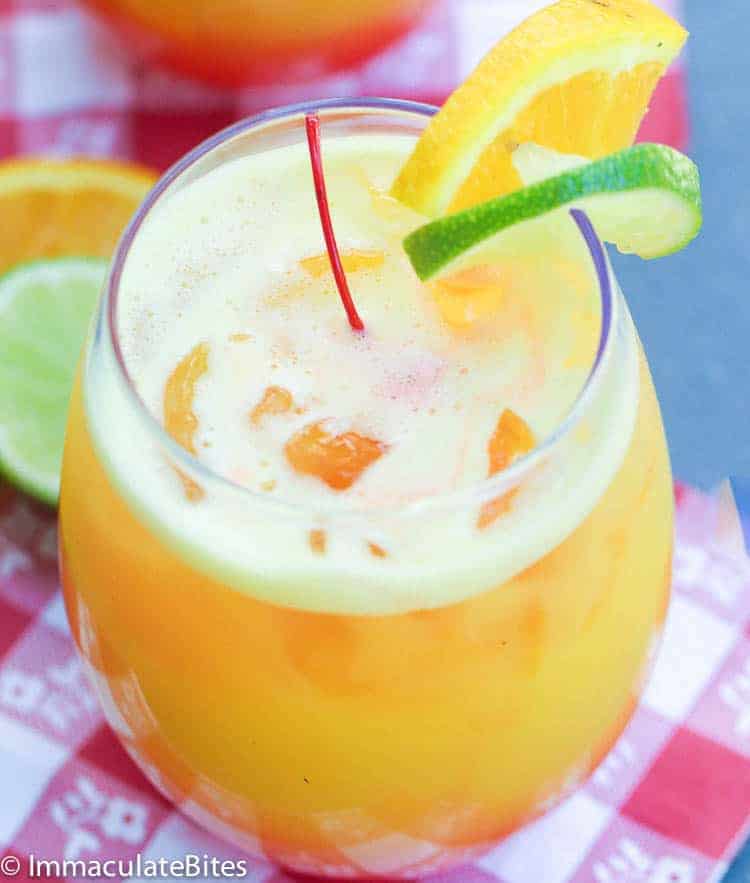 Complete your Jamaican combo with a refreshing fruity drink to scrub off the lingering spiciness out of your mouth. And nothing does the job higher than this rum punch. It can surely kick off the party with its lovely mixture of rum, pineapple, orange, and lime juice. 🤩
Rum Punch
Rum Punch – sweet and vibrant tropical drink with layers of multiple rum flavors, pineapple juice and orange juice. A simple to make summer drink that will also be enjoyed the entire yr round!
Try this recipe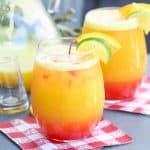 24. Pineapple Juice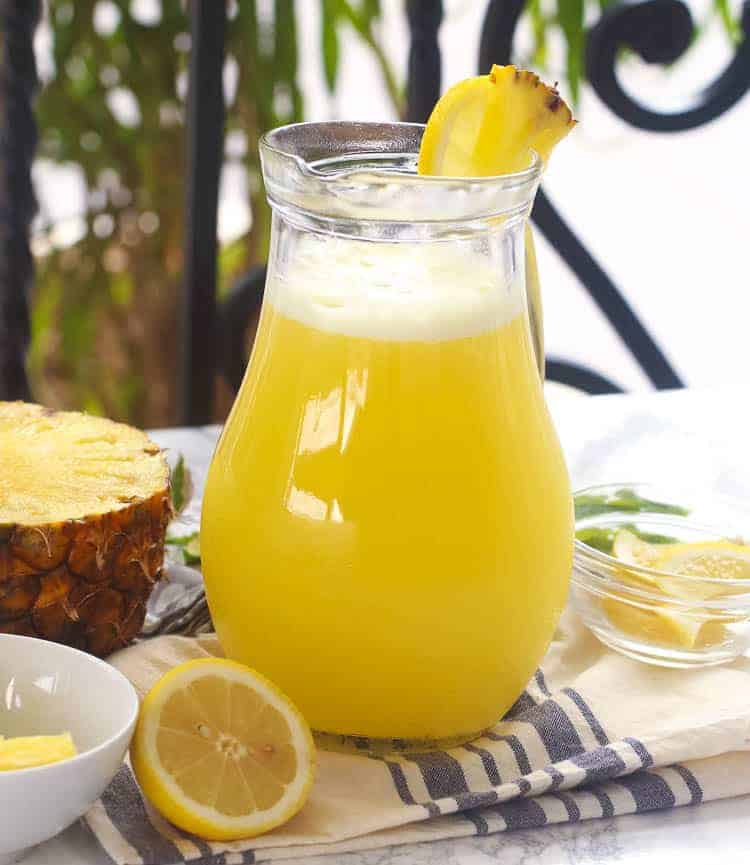 Ditch the canned pineapple juice and make your individual from scratch to enjoy this revitalizing drink free from unwanted additives and preservatives. Plus, peeling the pineapple is pretty fun and a difficult experience. And oh, don't forget to try pineapple ginger juice, too, and I promise you won't regret it. 😉
Pineapple Juice
Refreshingly sweet, a bit tangy, and just the appropriate amount of tartness constructed from real fresh pineapples and all-natural ingredients. Easy, easy, and loaded with tons of nutrients in every glass. Delicious tropical delight!
Makes about 4 cups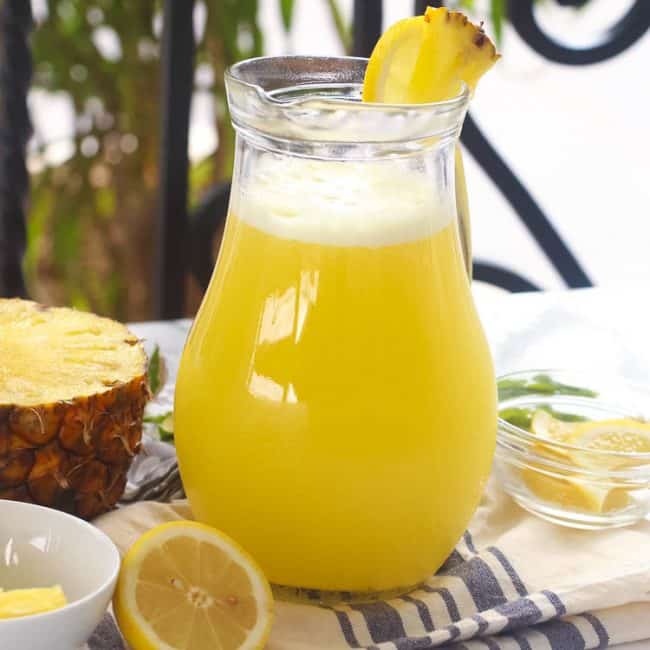 25. Pina Colada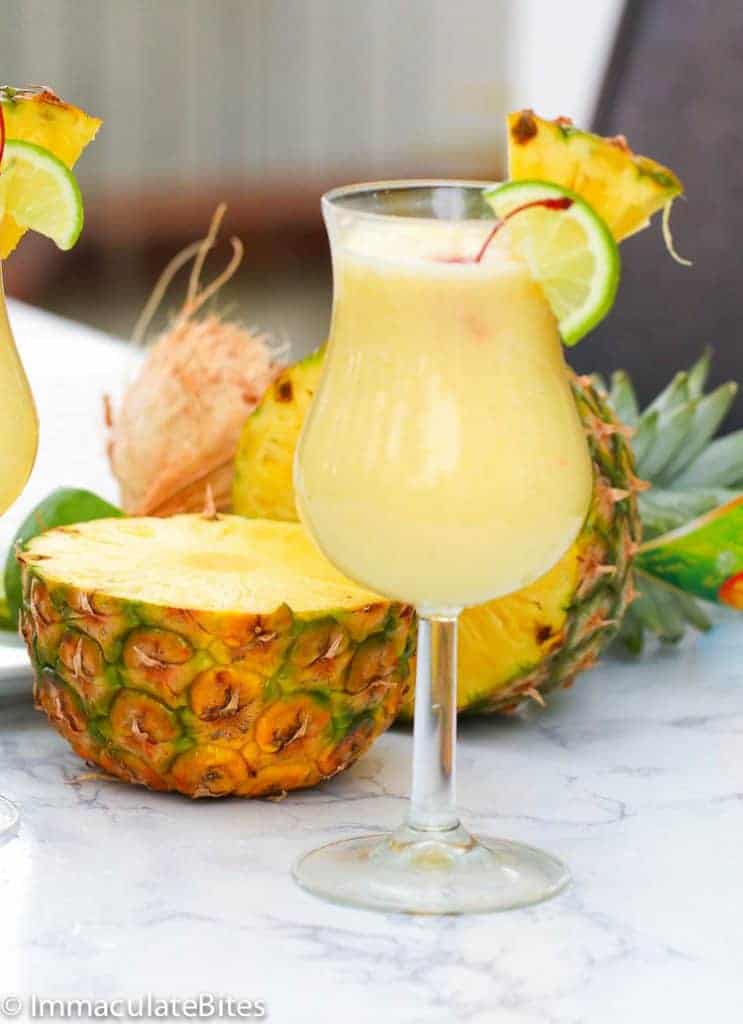 Fresh pineapple, lime juice, coconut milk, and rum together in a drink is a straight-up tropical enjoyment of a glass. Just enthusiastic about it makes me thirsty. Aaah! It's the proper nightcap after stuffing yourself with jerk chicken and the very best side dishes. So refreshing, indeed!
Conclusion
So, are you planning your next BBQ party yet? These side dishes won't disappoint. Impress your guest with the very best jerk chicken sides, and also you'll hear nothing but praises. My top fave is Caribbean rice and beans. What's yours? Comment below! Enjoy!
(Visited 6 times, 1 visits today)