NASSAU, BAHAMAS — Chef Simeon Hall Jr. has adopted the duty of expanding authentic Bahamian dishes beyond the borders of The Bahamas' 700 Islands and Cays.
He has taken on the mantra of spreading the origin story of every dish by pairing a native bite with a chunk of history and with each culinary masterclass his dream becomes a reality. 
"I want to see Bahamian restaurants on a worldwide scale. In Europe, the US, Asia, and the world over.  I feel just because the world knows jerk they need to know Bahamian stew, just as they know croissants they need to know Johnnycake," said Hall. 
In May, The Kitchen at Baha Mar and Hall together launched the very first culinary masterclass for mothers. The partnership continued and Hall hosted a baking masterclass for fathers.
Hall explains that the goal of hosting each masterclass goes beyond teaching individuals tips on how to create the right dish. 
"I would like locals, visitors, and the company Bahamas to see how awesome Bahamian food and chefs are," he said.
"We need to be in elevated spaces.  I would like to offer an outlet for small and enormous businesses to point out their products to the Bahamian foodie public."
Baking with the Bishop's Son Culinary Masterclass was a pre-Father's Day interactive baking class that got down to break the tradition of crab dishes for fathers and present to the dads an out-of-the-box experience. 
The Fathers participated in a reverse dinner. This event stayed true to its promise of a singular experience as the primary course debuted was dessert and the ultimate course climaxed with a soup.
Hall continued: "Everyone knows that crab 'n' rice in The Bahamas is the National gift for Fathers. I had to alter that. I desired to go totally left from that stereotype. And truthfully baking is certainly one of my favourite things to do within the kitchen so I figured others would really like it too."
"We had rose hibiscus doughnuts donated by our partners at Bakehouse, then we had Andros wild hog ribs, tamari glaze, and baby vegetable. Following that was Birria tacos, consomme and lastly, Field Day tomato three ingredient soup, cheese raviolis, and native tomatoes."
Plated dishes created at Baking with the Bishop's Son Culinary Masterclass
Plated dishes created at Baking with the Bishop's Son Culinary Masterclass
The fathers not only received welcome drinks from Moet & Chandon Champagne or indulged in local creations prepared by Chef Hall and his team, but additionally they baked goods from scratch.
"We broke the group into teams of twos," Hall said.
"They prepared: Johnnycake biscuits, chocolate cake (my favourite recipe by the best way), Italian focaccia, and cheesy cornbread."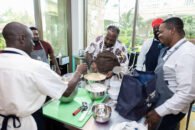 The competitive group of fathers battled for the various prizes donated by partners comparable to Kalik, Field Day, Chefs Pantry, Bahama Hand Prints, Bahamia, Luxury Management, Munroe Global, Bee within the Bahamas, and Island Foodology. 
"I would like to thank the entire sponsors that partnered with me!"
This event saw the likes of Ambassador of Culture, Jamaal Rolle, Comedian Tamico Sawyer, Radio talk show host Juan McCartney, Myles Munroe Jr., Sherice 'Shesomajor' Major, the co-owner of Down Home Bahamas, Keva Carey and others.
The category was hosted by Hall, Chef Quentin Scott, and apprentice Chef Derek Sawyer. 
As for Chefs' ultimate goal, Hall said: "I might like to have a namesake restaurant in a significant resort.  A tremendous restaurant that not only looks like a contemporary Bahamian restaurant but has food that tells our story in a creative way."
(Visited 4 times, 1 visits today)