NASSAU, BAHAMAS — This holiday season, when Bahamians buy buckets of chicken from KFC, they are going to make sure to notice something different.
KFC Nassau has develop into the primary major international brand to honor a legendary Bahamian artist on its seasonal packaging with KFC buckets decorated with the artwork of the late Jackson Burnside III.
This primary edition Bahamian bucket features Burnside's iconic painting "New 12 months Risin'", which depicts a rushing Junkanoo group adorned in brightly-colored festive costumes.
The primary bucket was presented to Burnside's widow, Pamela Burnside, who partnered with KFC Nassau as a option to have a good time her husband on the tenth anniversary of his passing, and to have a good time Junkanoo, something that was dear to his heart.
"What a fitting tribute to finish the 12 months with something so very vital and through this time of celebration not only of Christmas, but in addition of Junkanoo and of Jackson," said Burnside.
"It's so Bahamian. It's a natural fit. Jackson could be very happy."
KFC Nassau presented Burnside with one in all the commemorative buckets inside a specially designed display case and it's going to remain on display on the Doongalik Art Gallery on Village Road, where much of Burnside's art is showcased.
When KFC Nassau got here up with the concept to honor Bahamian art in such a novel but fitting way, Mario Money, general manager of Restaurants Bahamas Limited, said it knew immediately that it wanted to start out with one in all Jackson Burnside's artistic endeavors.
"He was the primary one to return to mind because he's a legend not only within the art world but on the earth of Junkanoo as well," Money said.
"We're so grateful to Pamela and his family for embracing our vision and dealing with us to create such a fitting tribute to Jackson Burnside."
Besides being thrilled to see her husband's artwork on display in such a quintessentially Bahamian way, Burnside is happy concerning the message this partnership sends to other artists.
"With the creation of those buckets, we're capable of get Jackson's art into the hands of so many Bahamians who may otherwise never have seen and appreciated his creative work," she said.
"It's also exciting for me to hope that other artists and the broader public can now understand the orange economy and the connection between a bit of art going beyond something that just hangs on a wall.
"It's very vital for people to see that your culture can take you extra."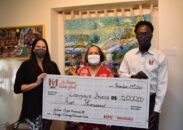 Burnside has been busy putting the ending touches on the new Jackson Logan Burnside III Design Library and Research Centre, which is able to house hundreds of Burnside's art, design, Junkanoo, business and architecture books.
The library will likely be open to the general public to go in and use the books for research, and has been catalogued by librarian Penelope Nottage.
KFC Nassau made a $5,000 donation to the library as a way of thanking the Burnside family for entrusting Jackson's art to the brand.
The 2021 seasonal KFC bucket is just a method the brand is keeping the art of Junkanoo alive. This 12 months, the corporate will host the second annual KFC Junkanoo Buckets Competition, inviting Junkanoo artists and enthusiasts to make use of the KFC buckets within the creation of Junkanoo headpieces that depict the KFC brand.
The second annual KFC Junkanoo Buckets competition will likely be officially launched in early December. Pamela Burnside will sit as one in all the judges for the competition and may even curate the winning designs within the Doongalik Art Gallery so the creations are properly displayed and accessible to most of the people.
KFC Nassau can be offering the general public special Junkanoo Mega Boxes this holiday season to enable families and friends to get together and revel in home-cooked food as they gather. The seasonal special Junkanoo Mega Boxes will include a new guava biscuit that can only be around for the vacations.
(Visited 1 times, 1 visits today)