NASSAU, BAHAMAS — The world-renowned Mandara Spa at Atlantis Paradise Island has added a twist to its relaunched Bahamas Botanical Collection: flavorful and refreshing iced bush teas.
The Bahamas Botanical Collection is rooted in island culture and uses the healing properties of native ingredients, specialty Bahamian music and bush tea.
Fever grass, soursop, hibiscus, rose and Sweet Margaret are only a number of the native leaf blends which might be brewed right into a flavorful tea for Mandara Spa guests.
Each tea mix comprises a one hundred pc natural combination of leaves, bark and roots, collected throughout the islands of The Bahamas by Pasion Tea Company, founded by Bahamian herbalist Julie Hoffer.
Youlanda Deveaux, Mandara Spa's regional vice chairman, Resort Operations, Caribbean and Latin America, said: "The feedback that we've received consistently is that guests feel uplifted and have enjoyed a real Bahamian experience.
"We're taking the pairing of bush teas with spa treatments as seriously as a sommelier would take a high quality wine pairing with an excellent Michelin or five-star-rated dinner."
Delano Mackey, the spa operations manager at Mandara Spa, is fondly generally known as "the bush tea sommelier". Certainly one of his roles is to arrange quite a lot of tasty bush teas day by day for spa guests.
"It feels superb to have the opportunity to supply guests something Bahamian," said Mackey. 
"It's an excellent experience and it makes me feel good to know that I can create something like this. Guests are loving it, and it's an excellent feeling.
"Some people tell me that I'm imagined to be a butler because I actually enjoy anything that has to do with prepping, so that is fun for me.
"I brew these teas each day. On a slow day, I might do 4 containers and when it's very busy, I could make as much as 12 gallons."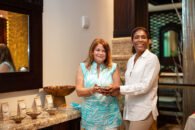 Deveaux said: "Delano enjoys conversing with guests about bush teas and he invites all spa guests to take a chunk of The Bahamas home with them by purchasing the bush tea blends.
"His thoroughness and keenness about what he does is so impressive that we've had guests call him after they return home simply to ask for suggestions about what ingredients to include or what to pair with the bush teas they took home from The Bahamas."
The 4 bush teas offered at Mandara Spa include: peppermint, feather leaf, orange and ginger tea; Sweet Margaret, peppermint, lime and rose tea; soursop, fever grass and hibiscus tea; and moringa, fever grass and hibiscus tea.
(Visited 1 times, 1 visits today)